Have you been stressed recently and would like a method of relaxing yourself? If you do not have the time or simply cannot head outside and find a nice place to hike, take a look at some supernatural landscapes throughout games or stories and you will find that they are a fantastic alternative! Go ahead and spend 30 minutes in a game like Genshin Impact walking around, admiring the scenery, or read a story using vivid details to immerse you in the content. Walking around in the game admiring the landscapes is a brilliant alternative to playing the game, and it will make you feel as if you are in a fantasy world. The mixtures of audio, vivid details, and supernatural elements in a landscape will truly encapsulate you in its vision, creating a tranquilizing atmosphere that you can loosen up in.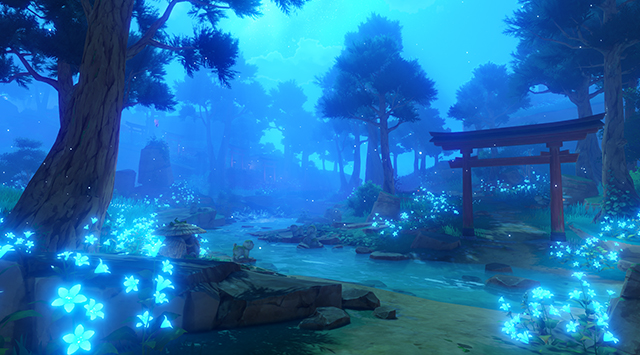 Chinju Forest of Genshin Impact
To further involve yourself into a truly fantastical world, music helps add to the effect of immersion. To some, it gets their blood pumping, to others it accompanies them on a sad winter night. Although soundtracks aren't natively present in readable stories, listening to a fitting soundtrack while reading increases your enjoyment and immersiveness. Typically, in video games, you would hear a soundtrack fitting to the scenery that enhances what one is supposed to feel when playing it. In the case of a pleasant landscape, all the soothing feelings given off are all enhanced. The soundtrack is never the main focus of a landscape, however, it is something that you would love to hear if you were truly traversing the fantastical land. Music is the icing on a cake, something that exists to compliment something good to make it better, yet too much of it would decrease the value of the main subject. 
Vivid details, most notably seen in writing, is the easiest part of a scenery to distinguish. Looking at any story, one can easily tell how detailed it can be at first read. While the true beauty of the outside world in life cannot truly be admired through writing and games, vivid details, through text in a story or designed in a scene, creates a false reality to enjoy at the comfort of your home.
"Lost and Found" on Vimeo
According to Blair Somerville, there is so much going on in life that his inspiration is life itself. People may find inspiration within detailed, fictional landscapes because they manage to replicate life well.
Though both the usages of audio and vivid details contribute to nice feelings given off of a scene, some people will not find that piece of content very entertaining for more than a few minutes at most. To add more enjoyment one could get from a scenery, a commensurate amount of supernatural elements should be included in the features of the landscape. Adding otherworldly features helps keep the interest of the consumer because they wouldn't see those elements in nature.
"Scavengers" on Vimeo
Fictional landscapes are always enjoyable to explore because they take both elements from nature in real life and what nature could have been. Music and soundtracks are used to enhance the visions of the details of real life and unusualness of surreal aspects. All of these when combined create an environment enjoyable to take in and experience.